Designed with our clients in mind, our audit and assurance services focus on critical areas and risks that matter most to your business. The ability to manage...
At Grant Thornton, tax is a key part of our organisation and our tax teams can offer you a range of solutions.
As your business grows, our advisory services are designed to help you achieve your goals. Successful growth often means navigating a complex array of...
ESG and non-financial assurance
Japan Desk in Grant Thornton Malaysia was established in October 2013 to serve as bridge between Malaysia and Japan.
Our expertise in the property industry in ASEAN
Support clients in identifying strategic business or investment partners in China or other region
Our expertise in the retail industry in ASEAN
Our expertise in the technology industry in ASEAN
Welcome to Tax Alert, Grant Thornton Malaysia's newsletter on the latest tax updates and information.
Principal Hub (PH) Incentive 2.0
The Malaysian Investment Development Authority (MIDA) has recently released a guidelines on Principal Hub (PH) 2.0 which set out the enhancements for the existing PH incentives. The new guidelines will be effective for applications received by MIDA from 1 January 2019 until 31 December 2020. The main changes from the previous guidelines are as follows: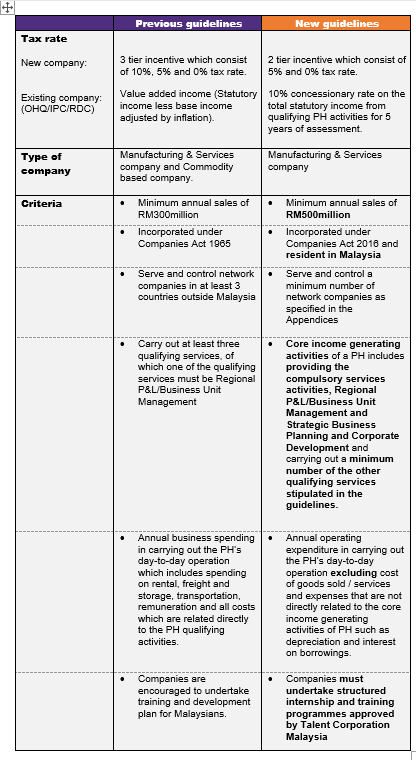 You may refer to the full guidelines as below:
Should you require any clarification, please do not hesitate to contact your respective Grant Thornton tax adviser.