Designed with our clients in mind, our audit and assurance services focus on critical areas and risks that matter most to your business. The ability to manage...
At Grant Thornton, tax is a key part of our organisation and our tax teams can offer you a range of solutions.
As your business grows, our advisory services are designed to help you achieve your goals. Successful growth often means navigating a complex array of...
ESG and non-financial assurance
Japan Desk in Grant Thornton Malaysia was established in October 2013 to serve as bridge between Malaysia and Japan.
Our expertise in the property industry in ASEAN
Support clients in identifying strategic business or investment partners in China or other region
Our expertise in the retail industry in ASEAN
Our expertise in the technology industry in ASEAN
Grant Thornton Malaysia is a member firm of Grant Thornton International Ltd (GTIL). We have progressed expeditiously in every aspect ever since our establishment in 1974. Our firm provides assurance, tax, public listing, corporate finance, restructuring and other specialist services to public listed and private companies. With offices in Kuala Lumpur, Penang, Johor Bahru, Kuantan and Cambodia, and close to 1000 people, we have invaluable local expertise supported by global reach.
Grant Thornton is one of the world's leading organisations of independent assurance, tax and advisory firms. These firms help dynamic organisations unlock their potential for growth by providing meaningful, forward-looking advice. Proactive teams, led by approachable partners in these firms, use insights, experience and instinct to understand complex issues for privately owned, publicly listed and public sector clients and help them to find solutions. With over 68,000 Grant Thornton people, in over 130 countries, are focused on making a difference to clients, colleagues and the communities in which we live and work.
Grant Thornton is one of the 50 "World's Most Attractive Global Employers" for four consecutive years, 2015-2018 awarded by Universum. Grant Thornton was also named 'Employer of the Year' by the International Accounting Bulletin for 2017.
In Malaysia, we are one of the Most Preferred Graduate Employers to Work For in years 2023 and 2021, particularly in the Accounting & Professional Services category, awarded by Talentbank. These are the results of our strategic drive, global leadership, and remarkable growth around the world and locally, and we understand that these awards reflect not only our strength as a global organisation, but as a collection of member firms who are all dedicated to the highest level of client service and our people's growth.
Awards
Grant Thornton Malaysia is an award-winning, recognised professional services firm. Here are some of our awards:
Most Attractive Graduate Employer to Work for in 2023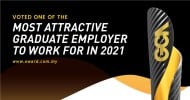 Most Attractive Graduate Employer to Work for in 2021
"We are happy with Grant Thornton's services as our external auditor & adviser. Grant Thornton has helped us significantly, beginning with our IPO and subsequent corporate exercises to the size we are today. Thanks." Dr. Tang Seng Chuan, Executive Vice Chairman, Inari Amertron Berhad.