33% of women hold senior leadership roles
The report also reveals that 90% of business in Malaysia have at least one woman in senior management, above the global percentage of 87%
KUALA LUMPUR, 5 March 2020 – According to the Grant Thornton International Business Report (IBR), women make up 33% of positions in senior management team within companies in Malaysia. Malaysia has seen positive gains of 10 percentage point from last year and is the highest since 2007. This is above the global percentage of 29%.
The ASEAN region has performed positively, from 28% last year to 35% this year and emerging economies continue to see the highest proportion of women in senior roles, including Africa (38%), Latin America (33%) and Emerging APAC (32%).
Proportion of women in senior management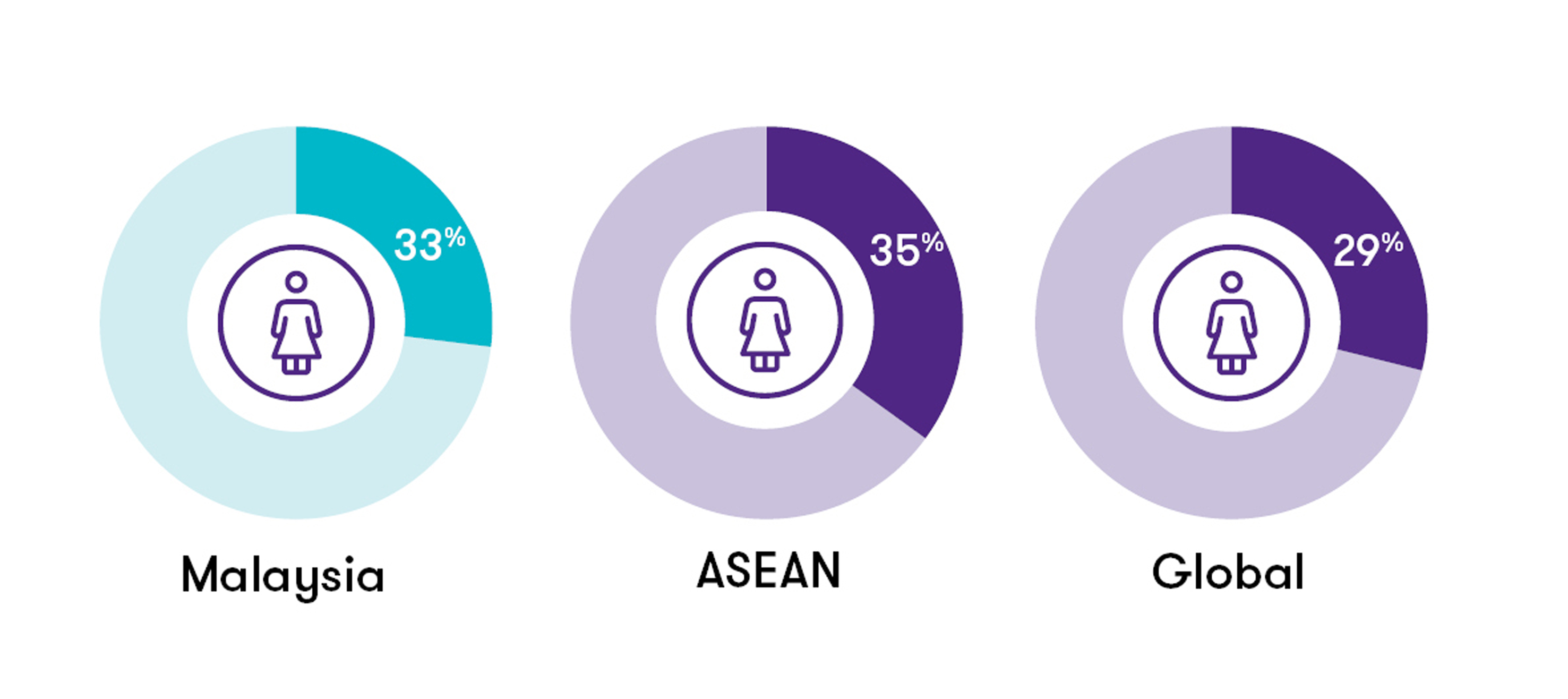 Source: IBR: Women in Business 2020
The report also reveals that 90% of business in Malaysia has at least one woman in senior management, above the global percentage of 87% - a figure which was held steady since last year. The number of businesses globally has risen by almost 20 percentage points over the last five years.
According to the report, the top three roles held by women in the businesses surveyed in Malaysia are Human Resource Directors (52%), Chief Financial Officers (29%) and Chief Operating Officers (28%).
"The 2020 data sees an encouraging pattern in women holding significant roles in business operations especially in the areas of people and strategy in Malaysia. The percentages have increased this year for the roles of Human Resource Directors, 52% from 44% of last year, which makes Malaysia having the highest number of businesses with women as Human Resource Directors in the ASEAN region," said Dato' N.K. Jasani, Country Managing Partner of Grant Thornton Malaysia PLT.
"Malaysia also has the highest number of businesses with women as Chief Operating Officer in the ASEAN region, 28% from 11% of last year. However, the data has seen a decline in the number of women Chief Financial Officers in Malaysia. Our number is the lowest in the ASEAN region," he continued.
The IBR also revealed that 60% of Malaysian businesses are actively working on removing barriers to gender parity at senior levels, the lowest number in the ASEAN region. Vietnam is the highest number of businesses taking action (100%) followed by Indonesia (99%), Philippines (94%), Singapore (77%) and Thailand (69%).
In Malaysia, businesses that are taking action to improve or preserve the gender balance of their leadership teams are ensuring equal access to developmental work opportunities (32%), providing mentoring and coaching (23%), creating an inclusive culture (17%) and flexible working (17%) as well as setting targets/quotas for gender balance at leadership levels (17%).
Leaders play a crucial role in creating an inclusive culture especially for women. To promote sense of inclusion among women, the businesses surveyed have said that their most senior leader personally encouraged colleagues to speak up with ideas and issues (35%), visibly considered the full talent pool for progression into leadership roles (25%), asked female talent what it's like to work at the company and how it can improve as well as instil new working practices to better engage all employees (both at 21%).
"In Grant Thornton Malaysia, we are proud to note that we have an increased number of women holding senior positions in our firm at 34% from 32% of last year. Our firm practices inclusive and open communication to gather opinions from our female leaders. In terms of their development, equal opportunities are given to our female leaders to go through leadership programmes. The key factors are valuing the dedication and contribution towards the firm's growth and goals, regardless of the gender," he continued.
"If we want to continue to see more women in senior positions, businesses need to be intentional. Policies that ensure diversity of thought at the decision-making table, that address equal opportunity in career development and bias in recruitment and develop inclusive cultures can't just be a nice to have – they are a must. Once implemented, these policies must be enforced and regularly reassessed to judge their effectiveness. When that is combined with real commitment from senior leadership, only then will real transformational change take place," he added.
-ends-
Further enquiries, please contact:
Charmane Koh
Senior Manager, Corporate Affairs
Grant Thornton Malaysia PLT
T: +603 2692 4022
M: +017 3384563
Notes to editors:
International Business Report
The Grant Thornton International Business Report (IBR) is a survey of both listed and privately held businesses. Launched in 1992, the IBR now provides insight into the views and expectations of around 10,000 businesses across 32 economies.
Questionnaires are translated into local languages and fieldwork is undertaken on a biannual basis, through both online and telephone interviews. The data for this release is from interviews conducted in October and November 2019 with chief executive officers, managing directors, chairperson or other senior executives from all industry sectors.
About Grant Thornton International Ltd
Grant Thornton is one of the world's leading organisations of independent assurance, tax and advisory firms. These firms help dynamic organisations unlock their potential for growth by providing meaningful, forward looking advice. Proactive teams, led by approachable partners, use insights, experience and instinct to understand complex issues for privately owned, publicly listed and public sector clients and help them to find solutions. More than 56,000 Grant Thornton people across over 140 countries, are focused on making a difference to the clients, colleagues and the communities in which we live and work.
All references to Grant Thornton International in the press release and this "Notes to editor" section are to Grant Thornton International Ltd. Grant Thornton International Ltd is a non-practicing, international umbrella entity organized as a private company limited by guarantee incorporated in England and Wales.
About Grant Thornton Malaysia PLT
Grant Thornton Malaysia PLT is a member firm of Grant Thornton International Ltd (GTIL) and we have been progressing expeditiously in every aspect ever since our establishment in 1974. Today, we are one of the leading audit, tax and advisory firms in Malaysia, providing assurance, tax, public listing, corporate finance, restructuring and other specialist services to public listed and private companies. With over 850 people, Grant Thornton Malaysia currently provides services from offices in Kuala Lumpur, Penang, Johor Bahru, Kuantan and Cambodia.