Optimism level in Malaysia rose to six per cent, the highest level since 2014, a vast improvement compared to a year ago (-36 per cent)
KUALA LUMPUR, 29 January 2018 - Overall optimism among business leaders in Malaysia has improved. New findings from Grant Thornton's quarterly business survey of 2,500 businesses in 36 economies, the International Business Report (IBR), reveals that the optimism level in Malaysia has risen to 6%, a major improvement compared to a year ago (-36%). The global business optimism is at a positive level too, being at its highest ever level at 58%.
"Confidence has boomed in Malaysia. Our optimism level is at the highest since 2014, despite being the lowest level among ASEAN countries. The ASEAN region's optimism level is performing at its best at 58%, the highest since 2011. The survey reveals that high levels of confidence are driven particularly by surges in Indonesia, 100% and the Philippines, 86%, where optimism has risen by 12pp and 6pp, respectively, over the same period.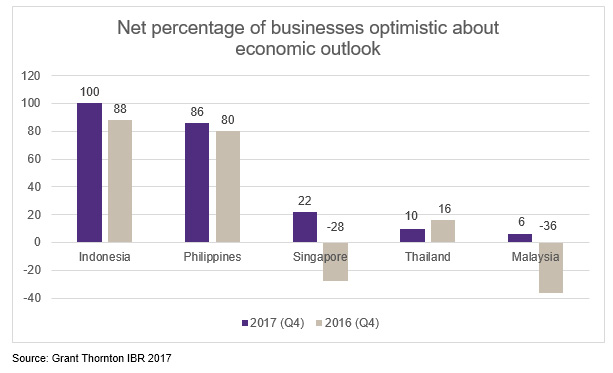 "In Malaysia, signs of confidence can be seen as the survey revealed that 62% business owners are expecting an increase in revenues, up 22pp from Q3 2017.
"Besides that, 44% of business owners are expecting an increase in exports for the year ahead, up 10pp from Q3 2017 and this is the highest in ASEAN.
"58% business owners are also expecting an increase in profits, up 46pp from Q3 2017 and 30% of business owners are looking to increase in selling prices, up 14pp from Q3 2017."
As optimism improves, firms in Malaysia are thinking about the future and investing in their long-term growth. The IBR finds that Malaysian business owners are planning to spend more on plant and machinery, up 16pp to 54% from Q3 2017. This is the highest among ASEAN countries and way above the global average of 36%.
Despite a positive picture overall, there is some areas of concern for business owners in Malaysia.
"Business owners have expressed some constraints in their business for the year ahead. Lack of skilled workers is a concern, at 46%, up 12pp from Q3 2017. Besides that, half of the business owners surveyed (54%), and the highest number in ASEAN, have mentioned the exchange rate fluctuations is a major constrain to them," Dato Jasani added.
When asked about growth initiatives that businesses are most likely to implement during the next 12 months, they have answered to improve salesforce effectiveness (50%), as well as improve productivity improvements (48%) and expand business domestically (36%).
Dato Jasani further comments:
"There are signs that 2018 marks the peak of the business and economic cycle. The US is expected to increase its interest rate further, which means the cost of borrowing will rise for many businesses. At the same time, inflationary pressure is a strong possibility, with wages and prices also increasing. Forecasts suggest that global GDP will fall away from 2019 onwards.
"What can businesses do to make the most of the current environment, but make sure the music doesn't stop at the end of this year? A better balance in where they invest will be critical. Hiring more workers has many benefits, but if investment in technology, plant and machinery doesn't keep pace, those workers will become less efficient and profits will steadily erode.
"The move towards automation represents a threat to many traditional business models. But it also presents opportunities. Dedicated investment in technology will help businesses become more productive and boost resilience. Firms that get this right over the next year will be best placed to succeed when the global economy comes off its current high."
-end-
Further enquiries, please contact:
Charmane Koh
Senior Manager, Corporate Affairs
T +603 2692 4022