Designed with our clients in mind, our audit and assurance services focus on critical areas and risks that matter most to your business. The ability to manage...
At Grant Thornton, tax is a key part of our organisation and our tax teams can offer you a range of solutions.
As your business grows, our advisory services are designed to help you achieve your goals. Successful growth often means navigating a complex array of...
ESG and Sustainability Services
Japan Desk in Grant Thornton Malaysia was established in October 2013 to serve as bridge between Malaysia and Japan.
Our expertise in the property industry in ASEAN
Support clients in identifying strategic business or investment partners in China or other region
Our expertise in the retail industry in ASEAN
Our expertise in the technology industry in ASEAN
A shift in the top line – the new global revenue standard is here at last
The IASB has published IFRS 15 'Revenue from Contracts with Customers'.
IFRS 15:
replaces IAS 18 'Revenue', IAS 11 'Construction Contracts' and some revenue-related Interpretations
establishes a new control-based revenue recognition model
changes the basis for deciding whether revenue is recognised at a point in time or over time
provides new and more detailed guidance on specific topics
expands and improves disclosures about revenue.
We have covered the introduction and scope of IFRS 15 in the July 2014 issue, and the details of Five Steps of Revenue Recognition under IFRS 15 were discussed in the August 2014 issue.
In this issue, we will present to you the other topics relevant to IFRS 15, namely:
Contact costs
Warranties
Licensing
Rights of return and repurchase obligations
Presentation and disclosures
Effective date and transition
View full publication here: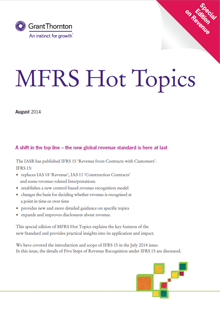 Read the full publication
Download PDF [2965 kb]