Designed with our clients in mind, our audit and assurance services focus on critical areas and risks that matter most to your business. The ability to manage...
At Grant Thornton, tax is a key part of our organisation and our tax teams can offer you a range of solutions.
As your business grows, our advisory services are designed to help you achieve your goals. Successful growth often means navigating a complex array of...
ESG and Sustainability Services
Japan Desk in Grant Thornton Malaysia was established in October 2013 to serve as bridge between Malaysia and Japan.
Our expertise in the property industry in ASEAN
Support clients in identifying strategic business or investment partners in China or other region
Our expertise in the retail industry in ASEAN
Our expertise in the technology industry in ASEAN
Transaction momentum building
Companies are increasingly focused on high-quality strategic transactions, with less time spent on investigating peripheral opportunities, according to our annual tracker of business leader M&A intentions. Despites some familiar challenges and uncertainties, underlying growth is relatively strong in many developed economies, while other key metrics such as interest rates, employment and availability of funding are also positive. The historically cyclical transaction market may well be at a point where the objectives and valuations of buyers are broadly aligned according to our research.
A growing appetite for acquisitions
In an improving M&A market (33% of business leaders globally plan to grow through acquisition over the next three years - see chart below), acquirers are becoming more selective about which opportunities they spend their time on. And with market activity increasing, the prospects for strategic M&A activity over the next three years are also on the rise.

Vendor confidence returns
The supply of available targets is key for a successful M&A market. Since the financial crisis potential vendors confidence in achieving a successful exit has been low, driven by modest financial performance, valuation concerns and perceived transaction risks, such as availability of buyer funding.
A changing funding landscape
A key element in an active M&A market is confidence in the ability to fund transactions. Whilst retained earnings remain a significant source of funding, our 2015 report indicates a major breakthrough in the confidence to secure bank funding. This reflects the increasing liquidity in the debt market, particularly as the alternative lending sector continues to grow. 57% of respondents expect to finance deals through debt compared to only 48% in each of the last two years (see chart below).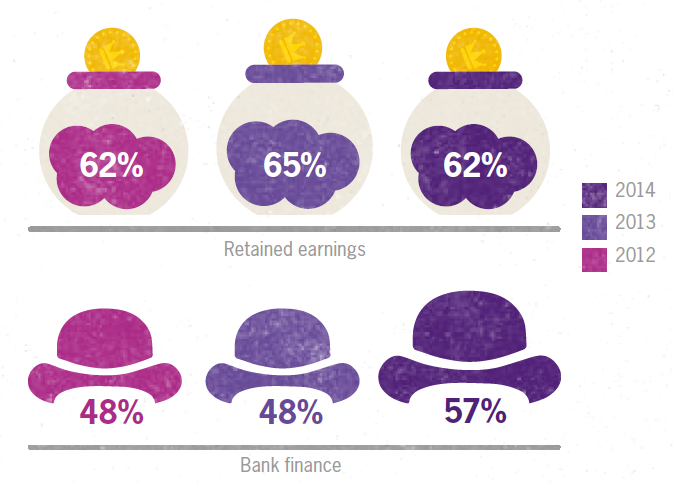 More information
Read the snapshot
Download PDF [2214 kb]