The 2018 Budget will be tabled in the Parliament on 27th October 2017 by the Finance Minister, YAB Dato' Sri Mohd Najib bin Tun Abdul Razak. Themed 'Negaraku: Shaping the Future', the budget aims to lay the foundation for steering Malaysia towards goals set in Transformasi Nasional 2050 (TN50).
Our seminar will feature insights from our local and international tax team along with our guest speaker on various taxation matters.
Our local tax experts will be covering the 2018 budget highlights, updates on recent tax developments in income tax and GST in the digital economy.
Our guest speaker will be sharing some recent tax cases on corporate tax.
In addition, you will also get an international overview of the opportunities and the tax landscape in real estate in the UK.
Programme
2018 Budget Highlights and Updates on Recent Tax Developments
Seah Siew Yun, National Tax Practice Leader
Alan Chung, Executive Director of Indirect Tax & GST
Gwendolyn Lau, Executive Director of Tax Advisory & Compliance
Opportunities and the Tax Landscape in UK Real Estate
Mike Dalton, Head of Stamp Taxes, Grant Thornton UK LLP
Recent Tax Cases
Vijey R. Mohana Krishnan, Partner, Advocate and Solicitor of Raja, Darryl & Loh
Tax on Digital Economy – The Evolving Developments in Income Tax and GST
Alan Chung, Executive Director of Indirect Tax & GST
Daniel Woo, Executive Director of International Tax & Global Mobility Services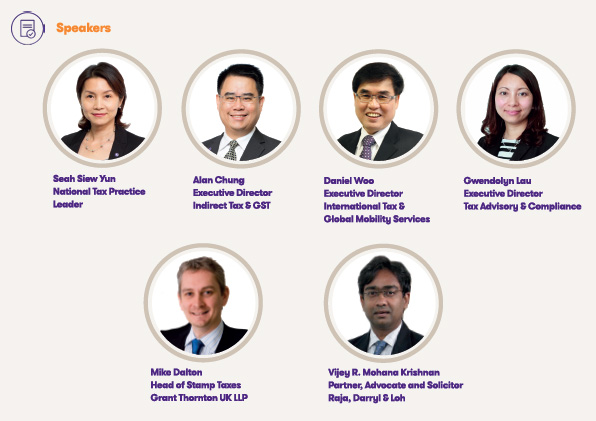 Seminar fee
• RM500 nett per participant (Grant Thornton clients/alumni) or
RM550 nett per participant (non-clients) inclusive of 6% GST.
• Fee includes seminar materials, refreshments and lunch.
• Certificate of attendance will be given to all participants for registration of CPE/CPD points with the relevant professional bodies.
Registration by 31 October 2017.
Ayu Nadia / Shareeda Yusop
SJ Grant Thornton
Level 11, Sheraton Imperial Court
Jalan Sultan Ismail
50250 Kuala Lumpur
T 603 2692 4022 ext 710 / 504
F 603 2732 1010
E ayu.nadia@my.gt.com / shareeda.myusop@my.gt.com