Designed with our clients in mind, our audit and assurance services focus on critical areas and risks that matter most to your business. The ability to manage...
At Grant Thornton, tax is a key part of our organisation and our tax teams can offer you a range of solutions.
As your business grows, our advisory services are designed to help you achieve your goals. Successful growth often means navigating a complex array of...
ESG and Sustainability Services
Japan Desk in Grant Thornton Malaysia was established in October 2013 to serve as bridge between Malaysia and Japan.
Our expertise in the property industry in ASEAN
Support clients in identifying strategic business or investment partners in China or other region
Our expertise in the retail industry in ASEAN
Our expertise in the technology industry in ASEAN
Dato' NK Jasani, Country Managing Partner of SJ Grant Thornton said: "A business is nothing without its people, just as a strategy is nothing without the people to drive it forward.
Kuala Lumpur, 30 April 2013- The Grant Thornton International Business Report (IBR) reveals that 62% of businesses in Malaysia are finding it hard to source skilled workers, just ahead of Singapore (61%) however, well above the global average of 39%.
Why are business owners finding it difficult to recruit skilled workers?
The survey has also revealed that in the ASEAN region, the shortage of specific or technical skills is the most significant factor for businesses in Vietnam (86%), followed by Philippines (76%) and thirdly in Malaysia at (68%). This is closely followed by Singapore (66%) and also business owners globally (64%).
The survey highlighted other factors that hinder recruitment in Malaysia such as the lack of appropriate work experience (63%) and also shortage of general employability skills, particularly teamwork, communication in English (62%).
What are the main problems caused by shortage of workers?
Malaysian businesses are faced with increased operating cost (52%), increased workload for remaining staff (47%) and also fall in customer service standards (38%).
Dato' NK Jasani, Country Managing Partner of SJ Grant Thornton said: "A business is nothing without its people, just as a strategy is nothing without the people to drive it forward. The best people boost productivity, save a business time and money, and ultimately grow the organisation. The shortage of skilled workers reported by business leaders should therefore provoke real concern, especially at a time when unemployment is running high in many mature markets."
Dato' Jasani added: "That the key concern amongst business leaders is a lack of technical skills is both cause for optimism and pessimism. There could be improving dialogue between education institutions and business leaders to embed the necessary skills in students. However, this is happening at a less than desired pace. In the meantime the fastest-moving sectors such as technology and cleantech are reporting the most serious recruitment difficulties."
The report also reveals the huge length of time business leaders in some economies have to wait to find the right people. Businesses in Japan take the longest at 116 days, India at 96 days followed by Malaysia at 93 days. Globally, it takes 70 days to hire skilled staff. At the other end of the scale, businesses in mainland China report that it takes only 37 days on average to hire skilled workers.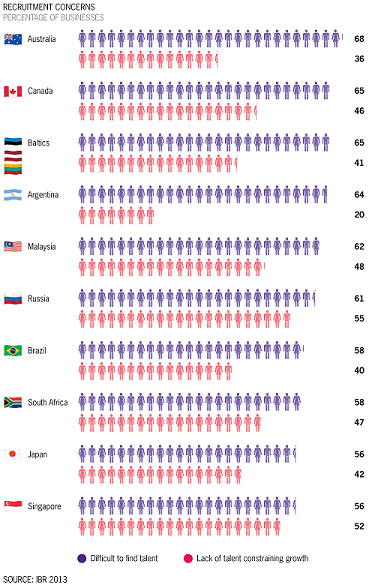 Malaysia's Initiative – TalentCorp
In this context, it is heartening to note that TalentCorp Malaysia, an agency set up by our Malaysian government in year 2011, is designed to streamline the performance of the Malaysian labour market and to attract Malaysians who are working abroad to return home.
Under the leadership of Encik Johan Merican, numerous initiatives have been created to attract Malaysians working abroad such as the Residence Pass-Talent initiative, the Returning Expert Programme and the Scholarship Talent Attraction and Retention (STAR). The Residence Pass-Talent and the Returning Expert Programme are already in implementation. Besides that, there are also programmes that assist local graduates such as FasTrack, Structured Internship Programme (SIP) and also Talent Wanita to raise and improve the market of skilled labour.
"With these proactive programmes, Malaysia certainly be able to increase its pool of talents," concluded Dato' Jasani.
For more information please contact:
Sharon Sung, Technical and Corporate Affairs Partner, T +60 3 2692 4022,
Charmane Koh, Corporate Affairs Assistant Manager, T +60 3 2692 4022,